Dialectical Behavior Therapy (DBT)
Dialectical Behavior Therapy (DBT) is talk therapy for people who experience intense emotions. DBT is often helpful for people with Borderline Personality Disorder (BPD). However, DBT can also be helpful for people living with Schizoaffective Disorder.
(DBT) is based on Cognitive Behavioral Therapy (CBT), but is adapted for people who experience intense emotions and have difficulty managing and regulating their emotions. Both DBT and CBT are a type of talk therapy that help people understand how thoughts affect emotions and behaviors. DBT focuses on helping people accept their lives and their behaviors, as well as helping them relearn good behavior.
DBT has proven to be effective for treating the following mental health conditions:
DBT helps people learn a healthier way to cope with issues that result from unhealthy or problematic efforts to control intense, negative emotions. 
The main goal of DBT is to reach a balance between validation (acceptance) of who you are and your challenges and the benefits of change. The structure of DBT can vary some from therapist to therapist and is wrapped around the following sessions:
DBT Pre-Assessment;

Individual Therapy;

Skills Training in Groups;

and

Telephone Crisis Coaching.
Your therapist will determine how suitable DBT is for you by explaining how DBT works. If you decide that DBT is the right therapy for you, you will sign documents that you are willing and able to commit to the treatment and the length of treatment.
Individual DBT therapy involves weekly sessions with your therapist (40 to 60 minutes). Individual DBT therapy sessions have the following goals:
To keep you safe by reducing suicidal and self-harming behaviors;

To limit behaviors that get in the way of productive therapy;

To help reach goals and improve quality of life (what is blocking your progress);

and

To help learn new skills to replace unhelpful behaviors.
You may be required to keep a diary to track your emotions so you can look for behavioral patterns.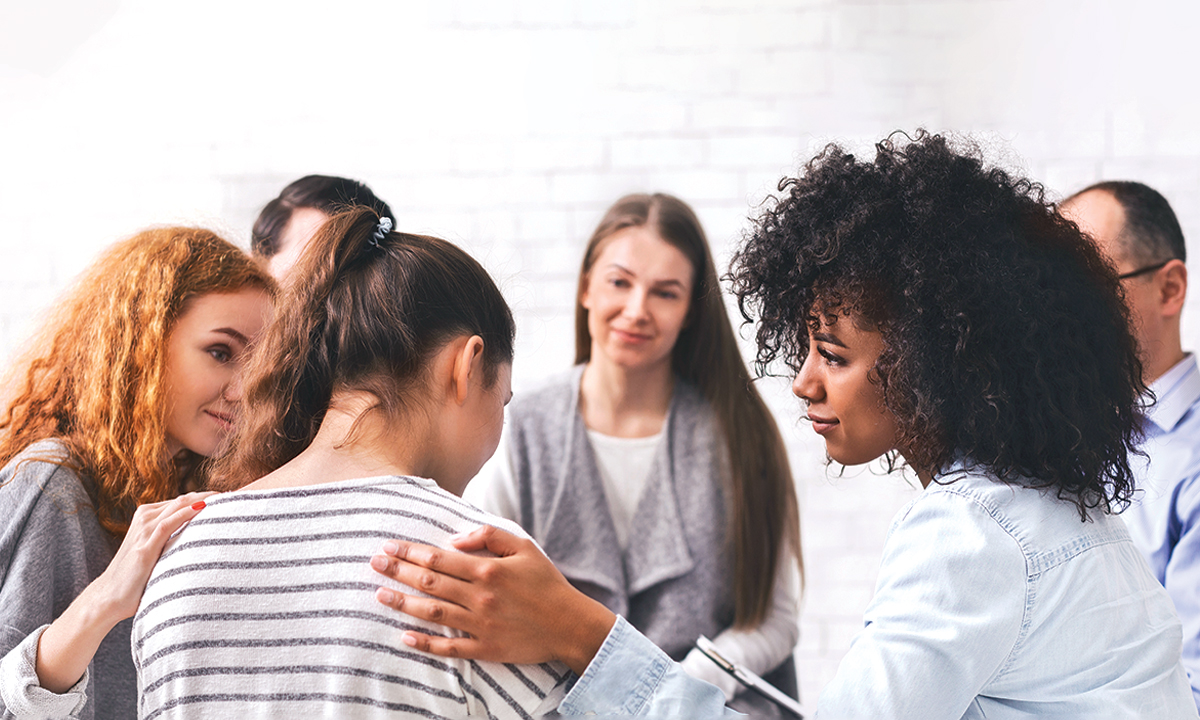 Your therapist will teach you skills in a group setting that is more like a teaching and learning session in a classroom setting. DBT skills help enhance dealing with the challenges of daily living. DBT Group Therapy includes:
Mindfulness: The practice of being fully aware and focused in the present instead of worrying about the past or future;
Distress Tolerance: Understanding and managing emotions in difficult/stressful situations without responding to harmful behaviors;
Interpersonal Effectiveness: Understanding how to set boundaries while maintaining respect for yourself and others;
Emotion Regulation: This is associated with being more aware of and having more control over your emotions.
Telephone Crisis Coaching
DBT often involves telephone crisis coaching to support for additional support. This means you can call your therapist at certain times for support between sessions. Examples of when you may need to call your therapist include:
When you need help with an immediate crisis, such as wanting to self-harm;

and

When trying to use DBT skills you learned but need advice on how to do it.
Your therapist will set clear boundaries about when you can call them, such as during an agreed-upon range of time during the day.
Crisis coaching functions on an as-needed basis. The calls are usually brief and they should not replace the work of individual or group sessions.
DBT has been proven to help people with their mental health conditions and for people with Borderline Personality Disorder. DBT results in the following:
Less Self-Harm Behavior and Anger;

Fewer Days of Inpatient Hospitalization;

Less Drug and Alcohol Misuse;

and

Improved Depressive Symptoms.
DBT is the most successful if the person is:
Committed to making Positive Changes;

Ready to Commit to Therapy and complete homework assignments;

Ready to Focus on the Present and Future, rather than the past;

and

Able to Attend Group Sessions.
DBT usually takes six months to a year to be effective. However, everyone is unique and mental health conditions are complex. The expectation is that within a year you should not be expected to be completely free of symptoms. Many therapists feel that treatment for Borderline Personality Disorder can take several years.
Contact us Today to learn
more about our
Dialectical Behavior Therapy Program